Eyebrow transplant, specifically FUE (Follicular Unit Extraction) eyebrow transplant, is a surgical procedure performed to restore or enhance the appearance of the eyebrows.
Eyebrow transplant is usually performed to address various aesthetic concerns such as thinning eyebrows, overplucking, scars, or naturally sparse eyebrows.
It involves transplanting hair follicles from the donor area (usually from the back of the scalp) into the eyebrows to create a fuller, more defined eyebrow shape.
FUE is a minimally invasive hair transplant technique that involves removing individual hair follicles from the donor area without the need for a linear incision or stitches. FUE is preferred in eyebrow transplantat due to its sensitivity, minimal scarring and natural-looking results.
To achieve the best results in FUE eyebrow transplant, it is important to choose a qualified and experienced hair transplant specialist. The procedure can be an effective solution for those who want to improve the appearance of their eyebrows.

How to Perform
FUE Eyebrow Transplant
DHI is an advanced hair transplant technique that involves using a special device to transplant hair follicles directly into the recipient area without the need for prior incisions. DHI allows for more accurate control over the angle, direction and depth of follicle implantation, resulting in natural-looking and dense eyebrow growth.
How to Perform
DHI Eyebrow Transplant
Extraction: Hair follicles are removed one by one from the donor area (usually from the back of the scalp), just like in FUE.
Implantation: Unlike FUE, where recipient sites are created prior to implantation, DHI uses the Choi Implanter Pen to precisely implant follicles directly into the desired brow area.

Advantages of
DHI Eyebrow Transplant
Precision: The Choi Implanter Pen provides exceptional control over the placement of hair follicles, resulting in an even and aesthetically pleasing brow shape.
Minimally Invasive: DHI is a minimally invasive procedure that leaves minimal scarring and has a faster recovery time.
Natural Results: The technique provides natural and long-lasting results with minimal trauma to the grafts.

Hybrid Eyebrow Transplant
Hybrid eyebrow transplant combines both FUE and DHI techniques to achieve the best results. It is a customized approach that addresses the specific needs and characteristics of each patient's eyebrows.
Advantages of
Hybrid Eyebrow Transplant
Personalized Approach: Hybrid transplant optimizes the result by allowing the surgeon to choose the most appropriate technique (FUE or DHI) for different areas of the eyebrows.
Natural Look: Your hair transplant specialist can create a more natural and harmonious eyebrow shape by combining techniques.
Improved Intensity: The hybrid approach can provide higher intensity and coverage, especially in cases of severe eyebrow thinning.


Afro eyebrow transplant is a specialized procedure designed to cater to individuals with unique hair characteristics common among people of African descent, including often curly, tightly curly hair.
The procedure uses special techniques to match the natural characteristics of Afro-textured hair, providing the patient with natural-looking and very affordable results.
As a result of the detailed preliminary examination of the person, during the operation; It is decided to use either DHI or FUE transplant techniques.
This decision is also affected by the patient's demands and the fact that the grafts to be taken from the donor area are curved under the skin.
Duration of Eyebrow Transplant
Eyebrow transplant usually takes a few hours to complete. The exact time may vary depending on the complexity of the procedure, the number of grafts needed, and the specific technique used (e.g. DHI or FUE). On average, the process can take approximately 2 to 4 hours.
Before and After
Eyebrow Transplantation
Pre-Procedure: Before the procedure, you will meet with your surgeon to discuss your goals and expectations. It is important to follow any preoperative instructions given, which may include avoiding blood thinners and alcohol.
After Transplantation: After the procedure, some redness, swelling and crusting may occur in the treated area. It is very important to follow post-operative care instructions carefully, including keeping the area clean and avoiding excessive sun exposure. Full results usually become visible several months after surgery.
Side Effects of
Eyebrow Transplant
Common side effects include temporary redness, swelling, itching and crusting in the eyebrow area. These side effects usually subside within a few days to a few weeks. In rare cases, complications such as infection or scarring can occur, but these are usually minimal with proper care.
Eyebrow Transplant Prices
The cost of eyebrow transplant may vary significantly depending on factors such as the technique used (DHI, FUE or hybrid), location of the clinic, experience of the surgeon, number of grafts required. On average, the cost of an eyebrow transplant can range from a few hundred dollars to a few thousand dollars.
Eyebrow Transplant in Turkey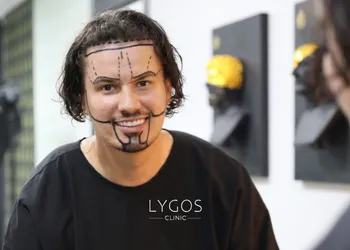 Eyebrow transplant is a cosmetic procedure that aims to improve the appearance of eyebrows, especially in people whose eyebrows are thin or sparse for various reasons such as genetics, excessive plucking or medical conditions.
Turkey has become a popular destination for this procedure due to its skilled specialists and competitive prices.
Turkey is known for its expertise in hair transplant, including eyebrow transplant.
Clinics in cities such as Istanbul offer high quality services at competitive prices.
When considering eyebrow transplant in Turkey, it is very important to research and choose a reputable clinic staffed by experienced specialists who prioritize patient safety and natural-looking results.
Eyebrow Transplant Process
Eyebrow Transplant FAQ
(Frequently Asked Questions)